Apr 10, 2013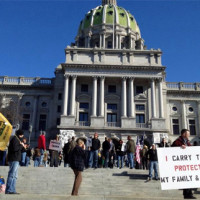 Pennsylvania State Representative Steve Santarsiero called for confiscation of semi-automatic rifles in December, but he's since scaled back his legislative plans into "background checks." This post will track his press conference to further restrict gun sales in Pennsylvania. Right now, we're waiting on the live video link to start working.
UPDATE: So, um, still no press conference. The House Democrats are promoting it with a link, but there's nothing at the link. D'oh!
UPDATE: Well, it looks like we little voters have been brushed aside in covering this gun control announcement. The presser started, as evidenced by media in the room:
Capitol newser on universal background checks for gun purchasers. twitter.com/ByJohnLMicek/s…

— ByJohnLMicek (@ByJohnLMicek) April 10, 2013

Even though the House Democrats promised to stream it online, they have opted not to do turn on the streaming for this event.
Watch LIVE as @repsantarsiero and AG Kane discuss gun background checks pahouse.com/mediacenter/PA…

— PAHouseDems (@PaHouseDems) April 10, 2013
5 Responses to "Live Blogging the Pennsylvania Democratic Gun Control Press Conference"