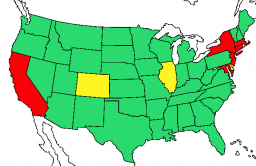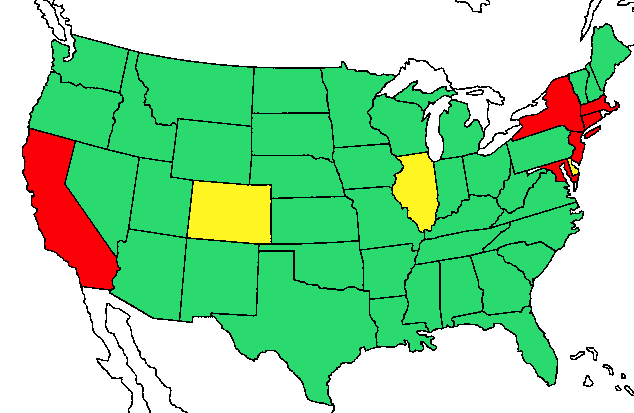 With a lot of people talking about Obama's gun control agenda being on the ropes, I think it's worth looking at where we are, and where we're going. Obviously, we are not out of the woods yet, and we've taken a gut punch in three states, one of which no one really thought was vulnerable (Colorado). Maryland had been teetering on the brink for a while, and Sandy Hook was enough of an excuse to break the stalemate. Connecticutians fought hard, but the writing was on the wall there as well. We will likely lose ground in other states as well.
We have essentially no means of saving the blue states through the political process. Colorado is salvageable if the Democrats face a sufficient backlash in 2014, but it's hard to imagine Second Amendment supporting majorities taking control of states like Connecticut, Maryland, New Jersey, or even Delaware at this point. But yet we can't continue to have two Americas, one with Second Amendment rights and one without. We can't continue to write off support from large segments of the American population, who's legislatures have been successful at eradicating the gun and shooting cultures in those states. We cannot tolerate these gardens of ignorance the media, and demagogues like Obama and Bloomberg are only too happy to sow. Over the long term, if we don't restore liberty to these states, we're in a losing battle of attrition, with each new pretext chipping away our rights state by state.
The first recourse for restoring the Second Amendment to all Americans is the Courts, but the Courts move slowly, and I hold considerable skepticism that the Courts are going to make sweeping changes to state laws. I'd like to be wrong about this, but I hold considerable skepticism we can fix this easily through the Courts. I think we'll likely see a case going to the Supreme Court on the "bear" or carry portion of "keep and bear" sometime in the next year or so, and I think we'll likely prevail. But I still believe the Court will dodge on standards of review, because for whatever reason, it's been two cases now with the Court being unwilling to address that standard. Perhaps this will change in a third case, but I'm skeptical, since I suspect the reason we have no standard of review is that there's no agreement on the matter between the majority in both cases.
In nearly all other civil rights struggles in this country, it's been a combination of Congress and the Courts acting to preserve liberties. The early Civil Rights Acts, authorized by Congress' powers under the 14th Amendment, were intended to protect the rights of newly freed Blacks during Reconstruction. There have even been government agencies created for the protection of civil rights. Even today, under Congress's enforcement powers found in the 15th Amendment, the Voting Rights Act provides for extensive federal oversight over state election matters and over state redistricting in states with a history of discriminatory behavior. There is ample precedent for Congressional involvement in the protection of civil liberties. I would propose that when the political environment improves for us, our focus ought to be on a comprehensive bill that restores Second Amendment rights to all Americans. What would such a bill look like?
Establish a finding that semi-automatic firearms are commonly used for lawful purposes, and therefore citizens have a right under the Second Amendment to possess semi-automatic firearms of all types. This at least puts the courts on notice as to what Congress thinks the right is.
States are not permitted to prohibit the sale, transfer, possession, or transportation of rifles, shotguns, handguns, ammunition, magazines, or firearm accessories in a manner that is inconsistent with federal law. This would federally preempt state AWBs.
The right to possess or carry a loaded rifle, shotgun or pistol, ammunition, magazines, or accessories in your home state is a right to possess or carry a firearm in all states, federal territories, and federal districts. This is essentially the reciprocity bill that's been up before.
States may not interfere with the transportation of unloaded and cased rifles, shotguns, pistols, ammunition, magazines, or firearms accessories for lawful purposes. Basically a stronger FOPA peaceable journey provision. This would essentially render New Jersey's byzantine transportation laws null and void, and also provide a federal standard for transportation states would have to be consistent with in the above section.
In order to make this politically viable, you'd have to leave state licensing alone. It would also allow states to prohibit classes of people from firearms, provided they maintained consistently with federal law. So a state law barring felons would be left alone, but if a state barred someone for a traffic offense, that provision would fall due to inconsistency. The courts would have to continue to make those calls, but at least they'd have a framework. National reciprocity was a top issue before, but the stakes have been raised by opponents of Second Amendment rights, and I see no reason we should not agree to upping the ante. Congress has the 14th Amendment power to enforce constitutional rights, and I think it ought to exercise it.