Given that I live in Southeastern Pennsylvania, rather than Florida, having two hurricanes come through in two years is not something we're very good at dealing with. And this one is coming straight in with a strong right hook: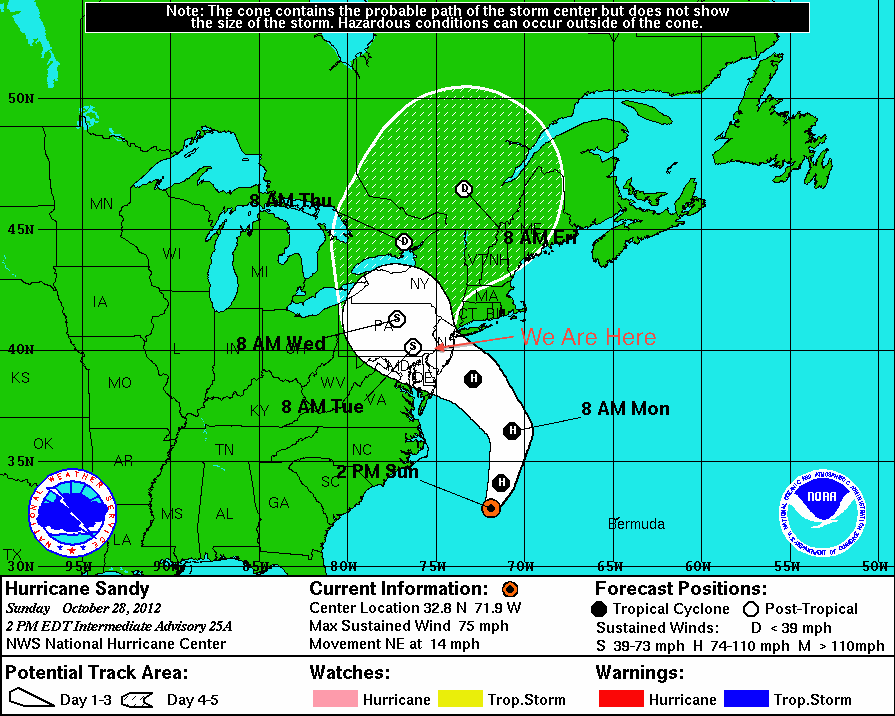 I'm expecting Sandy to bring higher winds than Irene, but not quite as much water. Water was the main problem last time. The winds they are calling for aren't worse than a strong nor'easter which is a known quantity in these parts, and the trees are mostly bare by this point. Regardless of what happens the next 48 hours, I feel much better prepared for Sandy than I did Irene. Aside from all the home improvements, which should help us weather the storm and keep the amount of water coming into the basement to a minimum, we also now have better preparations than we did for Irene:
My house is on a hill, so I have some barriers to divert water around the house in the back. During Irene I had to set this up during the storm.
Generator is full (10 hour run time @ 1/2 load).
5 gallon can of gas for an additional 5 hours of run. I wanted another 5, but the area has been stripped of gas cans. In a pinch I can probably get it from the cars, which are both full.
Sump backup pump battery and deep cycle marine battery are both topped off. I have an inverter standing by to run light appliances, radios, and mobile computing equipment off the marine deep cell.
Two cases of cheap beer.
Two cases of bottled water, and two of diet soda.
A case of baked beans, and I have enough hot dogs in the freezer to make beans and franks.
Cables for running everything critical off the generator are pre-placed in the house. All that is left is plugging into the generator and firing it up if we lose power.
Because we're redoing my office, everything is already out of the basement. But with a generator and backup pump, I think I have pumping covered well.
I cleared all the grass and dirt off the sewer clean-out, so in the even effluent starts backing up into the sink in my basement, I can pop it off. That will keep things from getting too shitty downstairs.
Blog is backed up to a secure off-site location.
I should note that we have enough battery to run the blog about an hour. We have enough generator to get us through 15-20 hours beyond that. In the event of a multi-day outage, or a serious problem with the house, the blog will likely go offline. My bigger fear is a fiber cut. But if it's going to be a while, I will move it to another location. My first priority is keeping the basement dry, keeping the meat in my freezer frozen, and keeping my beer cold. The blog is a tertiary priority. I love you guys, but not enough to drink warm beer, even with the power out after a hurricane.
In the mean time, the rain has started, and the winds have been picking up. My trees and a few of the neighbor's trees will be my enemy for the next 48 hours. Wish me luck.