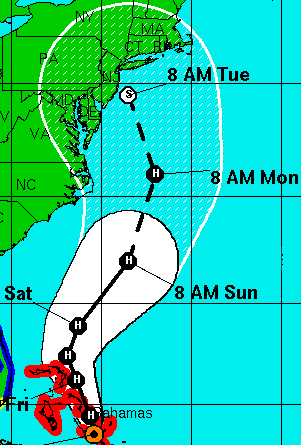 So the "snor'eastercane" maps are tilting a little too close to Pennsylvania for my liking, especially when some forecasters are concerned that if/when it does turn inland, it could be worse than Irene.
I got to thinking, what does this mean for the election? I realize that this is likely to hit a solid week before the election. However, we had parts of our suburban Philadelphia county that were out of power and still had trees blocking roads a week after Irene which was just rain, not snow. The more rural areas of any state that is hit could be out for quite a while since this is supposed to be a slow-moving storm.
If Pennsylvania takes the hit, then the areas that would be hit later and possibly longer are strong areas for Republicans. While this likely won't impact the presidential race much since Mitt isn't likely to win, it will likely make a big impact on the closer Senate race and, more importantly for gun owners, the largely ignored and unknown to many voters Attorney General's race. This doesn't even get into the many state representative and senate races across the state.
If it follows the bottom part of the cone and heads toward Virginia, well, that could impact the presidential race. During one snow storm that wasn't totally crazy, but definitely heavier than average, none of the streets in my mom's Roanoke subdivision were plowed for four days. During the 2008 primary, VDOT left motorists stranded on the overpasses that they failed to clear and treat during an ice storm for about a day – that was right near the DC line, not a rural corner. If there's one thing I learned living in Virginia, that state does not handle snow clearing very well at all.
Last year, I saw tweets and Facebook updates from people in Connecticut who were out of power for the better part of a week because of storms. Even if they could get out of their neighborhoods, they few places around them had power. That's not impossible to imagine, either. While Sebastian and I regularly walk up to our polling place, and we'd be willing to freakin' shovel a path for ourselves and our neighbors up there this year if we had to, what if they don't have power over a widespread area? How would counties handle that? More importantly, if they had only a few polling places open, how would voters be notified of the changes if few had power?
The good news for any weather issues is that the enthusiasm gap favors the candidates who happen to be pro-gun in this immediate area. However, the bad news is that the areas likely to have any damaged fixed or power restored last is more friendly territory for our candidates. It's an interesting, and not impossible to imagine, scenario with a very large weather system like Sandy.