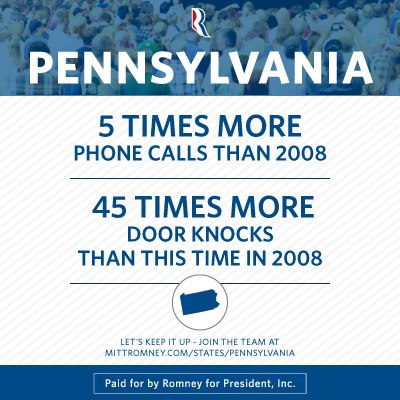 I've been pretty vocal about people who are just absolutely convinced that the GOP candidates for Senate & President will win Pennsylvania. Usually this is because everyone they know – who just happens to lean right – is going to vote for candidates on the right. Shocking. It's a matter of selection bias, and it isn't based in reality.
However, there are some things I'm seeing that leave me wondering if the polls are actually showing a much wider gap than really exists. One is a graphic Mitt recently posted on Facebook that noted his campaign has made 5 times as many phone calls and knocked on 45 times more doors by this time in the campaign than McCain's team had in 2008.
Consider that Mitt's got that much higher turnout of grassroots energy and he hasn't been spending the money here like McCain did. McCain was spending like Pennsylvania was a seriously competitive state. Both campaigns have largely been ignoring Pennsylvania. Though Mitt did test the waters a bit with a big rally in one of the Philly suburbs recently.
But then I also see tweets like this from the left.
Just spoke to a few hundred excited volunteers from New York all members of SEIU. In Philly to canvass for The President #forward 2012

— Tony Payton Jr. (@TonyPaytonJr) October 6, 2012
Fun times in Hazleton! Thanks @ofa_ny for the good times and hard knocks!#pa2012instagr.am/p/P5R5SEIfTU/ — Jane Slusser (@janeslusser) September 22, 2012

It seems odd to me that the Obama campaign would spend the money to bring in New Yorkers for a state that they are so confident they'll win – and win big.
One thing that these little signs could reflect is that the polls have poor turnout models. Yes, truly more people may like Obama over Romney in Pennsylvania. But, the Obama voters may not feel very motivated at all to vote. And clearly Romney's campaign has more energy than expected.
This year may be the year of quiet campaigning in Pennsylvania. We're seeing far fewer yard signs out this year than any other year – even non-presidential races. In fact, where there were previously dozens, now there are none. Yet, we still hear from most people on the right that they are more motivated to vote than they were before. We also have more gun owners interested in helping campaigns than we have had in the past. It's all kinda weird. I think the final numbers have a potential to be far more interesting than the polls show. I won't go so far as to say that Mitt will win Pennsylvania, but it could be a closer race than people expected based off polling.