It's amazing what people can and do sell online these days. I love checking out Etsy sellers for odd gun-related crafts. When I see more and more crafters turning out gun-related jewelry and other products, I see a signal that gun owners have gained enough cultural acceptance that the so-called "reasonable" gun control pushed by anti-gun groups will become more outrageous to even the general public.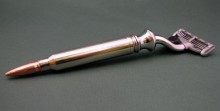 For example, when I look at this .300 Win Mag razor, I see a great opportunity to highlight how absurd it is that gun control advocates say it's a great thing that a Massachusetts person can't own it without a firearms id card. Because clearly you should have to undergo a background check to own a razor.
It's not just about novelty gun stuff for the guys. In fact, far more of what you find on Etsy when you search on terms like gun, hunting, or bullet is actually geared for women. I don't just mean in a way you would expect on a handmade crafting website, I mean products that are truly aimed for women to embrace and showcase their support of gun rights and the pro-gun and outdoor culture.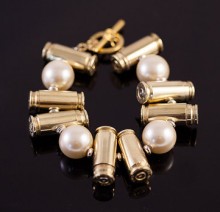 This bracelet is billed as "Pistols and Pearls"-Elegant meets Edgy. The maker brags that people will take notice and many will compliment. No doubt that the seller wants to make the buyer feel good about the purchase, but I think there's something to it. I've gotten positive comments pretty much any time that I wear something that combines girly-girl with something related to firearms. Although I'm sure if I ran into any of the current Brady Campaign crowd wearing something like this, they would see it as a sign of a dangerous person instead of the novel upcycling project that it really is.
Of course, the ultimate sign that we're the mainstream may not be from pretty jewelry or novel razors. It may be when sellers start trying to capitalize on anything related to firearms for a profit.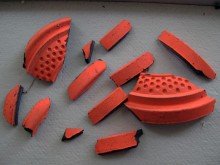 Yes, you can own this single broken clay pigeon for just $3, plus $3 shipping! The seller promises that these broken pieces are "[g]reat for little miscellaneous pieces and parts for whatever your heart desires!" Whatever your heart desires…who can beat that?
Well, if your heart desires some broken clays, I would suggest going to WalMart where you can get a box of 90 for just $2 more than what this Etsy seller wants. Then you can make your own "handmade craft" by breaking them at home…or on a range with a 12 gauge.