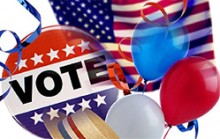 Tomorrow is Election Day in the Commonwealth. Now that the presidential race is largely locked up, attention focuses on our Senate primary to take on Sen. Bob Casey. For those of you who only loosely follow politics in the Keystone State, this is a great article summing up the problems the GOP has created for itself in this race.
For those who don't follow Pennsylvania politics, well, the state Republican Party powers that be endorsed a guy who wanted to host a fundraiser for very liberal (and extremely anti-gun) Joe Sestak and was a Democrat who voted for Obama in 2008. In the lead is a guy who was a Democrat for 40 years and hasn't even been a Republican long enough to have voted in a GOP primary before. Somewhere between those two is Sam Rohrer who has already shown he's not so great at running a statewide campaign when he made bizarre campaign investments in his failed gubernatorial race.
So you might see why Republicans in Pennsylvania are kinda "eh" about the whole thing. Here are a few funny quotes I've found in the media surrounding the race:
Welch [the GOP endorsed former Democrat] is hoping the high amount of undecided voters — even in Smith's own most recently released survey, about a third of the Republican electorate was undecided — will gravitate to him.
I love the logic of this businessman. If a voter tells a pollster they are undecided, they will come to me! Unfortunately, that's flawed logic. We're undecided, but I know my indecision is over which non-Welch candidate will get my vote. I will not reward the state party officials who handpicked pretty much the worst possible candidate. It will be a blow to the party, and maybe a few more county leaders will oppose the endorsement process all together next time.
Next is the view of a voter:
"Most of the time, it's Election Day before I make up my mind," said Richard Beard, a dinner attendee from nearby Chambersburg, Pa., who couldn't name the Republican candidates.
What dinner was he attending? The area GOP dinner. This is someone who cares enough about the party to show up to dinners with potential presidential candidates. Yet he can't name any of the GOP candidates in the primary, much less the party-backed candidate. Yes, that my friends is what we call enthusiasm. And that's what awaits us for November.
That said, we will both be at the doors to the school as soon as they open tomorrow morning. Make sure you know which Congressional district you are in this year since those maps changed. NRA is endorsing in the primaries in the new PA-4 (old PA-19), PA-17 (dramatically redrawn), and PA-18.