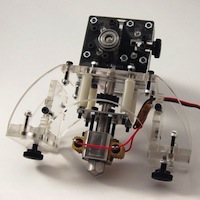 My goal was to try to come up with a design where if you had one of these low cost ABS printers, you could just download the file, print the parts, superglue them together, add the spring, and you'd have a working 32 round magazine.
Right now I'm at the point where you can download the file, print the parts, superglue them together, sand like crazy, add the spring, and you would have a somewhat finicky 20 to 25 round magazine.
The problem I'm having is a combination of ABS being a bit too flexible and software issues with tool path generation. The walls of the magazine needs to be at least a couple millimeters thick and solid in order to prevent excessive flexing. The tool path generating software (Skeinforge) doesn't deal well with thin solid walls whose thickness is some uneven multiple of the print head width. For example, if the wall thickness is 3.5 times that of the print width, it will generate one pass along the outer surface of the wall, one pass along the inner surface, and then one more interior pass against either the outside or inside surface. But that leaves the remaining 0.5 of the wall thickness unfilled, and you end up with a hollow very flexible wall. What it really should be doing is a zig-zag like pass over the wall interior. I can trick Skeinforge into filling in the walls completely by lying to it about print head width, but the wall surfaces end up off a bit and then I have issues with the magazine fitting in the mag well or the rounds fitting in the magazine. So I've been tweaking the wall thickness and print head size setting in order to try to get Skeinforge to do what I want.
The right solution is probably to modify Skeinforge so that it will generate the correct tool paths from the correct model, rather than adjusting the model to try to make up for Skeinforge's deficiencies.
Other than the flexing issue ABS seems to be strong enough. I have one magazine I printed which can hold the full 32 rounds and feeds fine, but it bulges so much when fully loaded that it won't fit in the mag well. The one magazine rupture I had was due entirely to a mistake in the cad file that caused the printer not to correctly bond the insert pieces (where one section of the mag body fits into another) to the rest of the part.