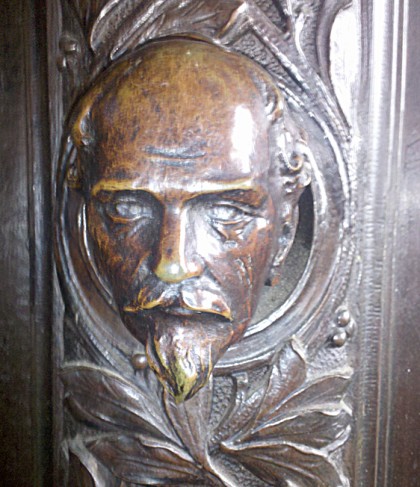 During the Right to Keep & Bear Arms Rally in Harrisburg, I tweeted about the mystery of Lenin's face sculpted into our Capitol doors. Of course, I assumed it wasn't really Lenin, but damn if it didn't look just like him.
Doing a bit of VPC-endorsed intensive research, the busts in the door are of people associated with building the Capitol. It doesn't provide a list, but does mention a few names. One initial possibility was Gov. Samuel Pennypacker, though I didn't think that they really looked alike. Based on this list, it looks like that was an incorrect guess.
However, if my guess based on that list is correct, the bust is of E.C. Gerwig, the secretary to Governor William Stone. I didn't find any pictures to compare him to Lenin, though.
On an interesting side note, Sebastian noticed that one bust had a hinge, so we assumed it hid a handle or lock. Sure enough, that bust (no photo, sorry) is of the Capitol's architect and hides the keyhole.