If you listen to the news, "AHHH! Â Worst! Storm! Ever! We're all gonna die!" But it's nearly one in the afternoon and it's still coming down: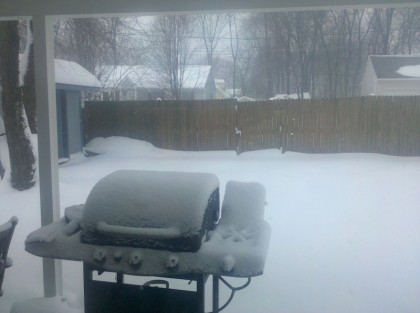 I'm really not looking forward to digging the cars out of this. Strangely enough, DC and points south are getting a lot more snow than we are, and it sounds like Cemetery up in Jersey City isn't getting any of it.
Oh well, we're stuck in today. On the agenda today is making some homemade ice cream, finishing up my kind-of-sort-of Belgian Wit. We also have a few movies to watch, and last night decided to stick in HBO's "John Adams" which I guess we'll have to finish. I also have a bottle of Eagle Rare, so who needs to go out anyway?
UPDATE: Getting in some pics from an NRA friend on Facebook in DC. My god:
Perhaps both sides in this debate are going to end up buried under the ice like cases of McKinlay. Remember folks, eat the pets first, before you turn on each other! That goes for the Brady folks too. Don't get any ideas just because his last name is Hamm.
Looks like my dad got a good bit more than us too out near Reading: