Now that we have a real patio going in, we want real furniture. Sebastian also wants a new grill to replace the current one. It's charcoal, which is nice, but it takes forever to really warm up. We're unlikely to plan ahead when deciding to use a grill, and we also don't need one quite as large as what we have now. (We don't entertain large groups.)
So, it's off on a search for patio furniture for me. First, lessons learned:
Stores really only put their expensive lawn furniture online.  It looks nicer than your average crappy white plastic lawn chair.
At some point, lawn furniture got very expensive.  The chairs I got for my apartment balcony that now sit on our front deck were $25-30/each and the tables were about $10.  I finished off the balcony with a small outdoor rug for about $25, some decorative string lights for $20, and a couple of citronella candles for $5.  For anything other than the crappy white plastic chair, these prices seemingly do not exist today.
With that in mind, I was on a mission.  After looking at $700 side tables and $1200 chairs, I lost some context for budget-friendly.  I also didn't know exactly what style Sebastian was imagining.  Did he want white plastic chairs or an actual matching set?  Sofa, or chairs?  Tables or none?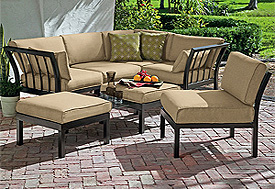 My first suggestion was this set at Wal-Mart.  With the flexibility of the trays that become tables and the many ways you can re-arrange the sectional, it really isn't a bad price.
It's got simple clean lines, it's brown, and it would give us seating for up to 7 with two tables, and it can be arranged so it doesn't take up too much space on the patio.  But, it's still more than $620.  And Sebastian said it was too fancy.  I wasn't expecting that complaint, just the budget issue.  But okay…
So I went looking for plain stationary patio chairs.  I checked IKEA, and they weren't any better on prices.  I liked the Arhulma series, thinking I could get two corner units and some plain chairs.  But then I did the math and we really weren't any better off.  I also happened to be near IKEA the other day, so I stopped just to peek.  I'm glad I did, the pieces were not that sturdy, were much lighter than they appear online, and simply not worth $120/chair, plus the cost of getting cushions made.
On the way back from a party the other day, I also stopped into Lowe's, Home Depot, Wal-Mart, and Target in an effort to see what they had in stock of the "slightly better than plain white plastic chair" variety.  I took snap shots of everything that jumped out at me for Sebastian to examine from home.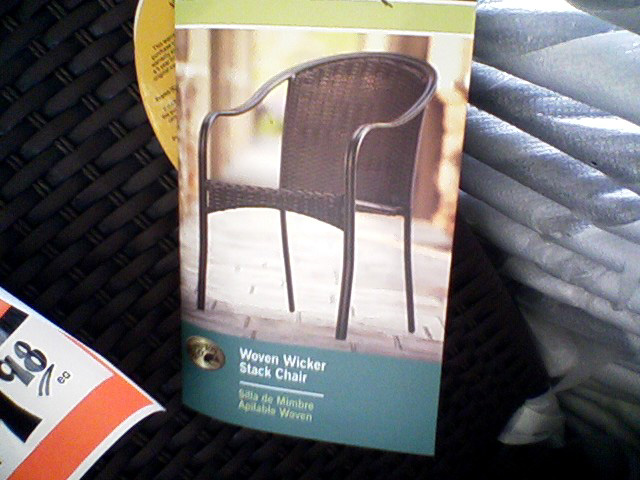 Home Depot was first and had a pretty small selection.  But, I did snap this photo of a label of one option from my cell phone.  Here, the chair sells for $50.
It's a good look, and it's relatively easy on the budget.  I'd ideally like to seat 6 people, so it's half the price of the Wal-Mart option, provided I can find cheap side tables to work with it.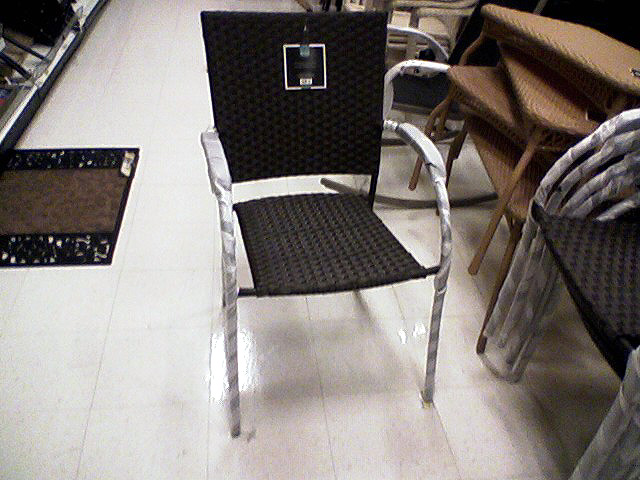 Then it was off to Target next door where I found one possibility for the same price.  It's slightly different, but it works.  Again, with the brown shades I love.
They also had more of the chairs I bought a couple of years ago, so there was also the option of just getting two more of those and pulling the ones I have off of the front deck.  But, we have grown on the idea of having chairs out there, so they will stay.
Then, off to Wal-Mart.  They had nothing.  In fact, only two of all of the sets they had online were even in the store to look at, and neither were comfortable.  So I suspect I dodged a bullet there.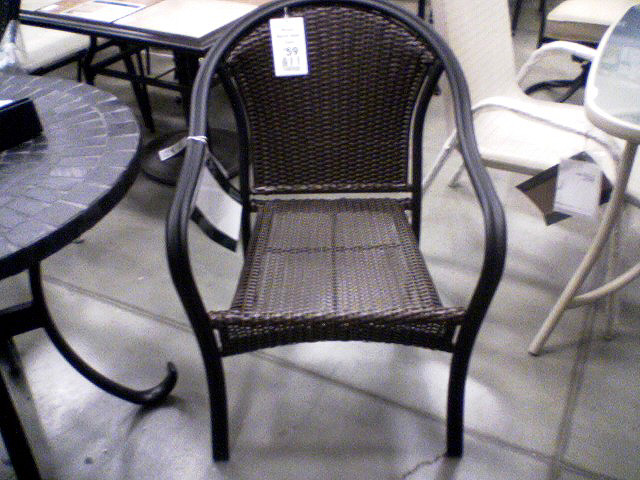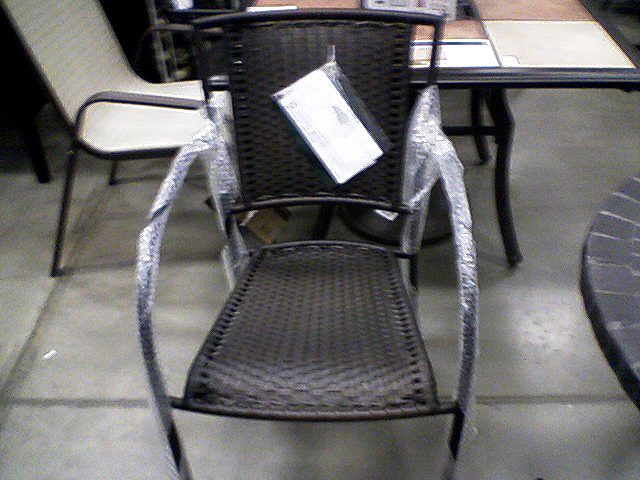 Heading on over to Lowe's next door, I found two potentials – and they were nearly identical to the two chairs I found at Home Depot and Target.  I snapped pics just because they weren't quite the same.  As you can see, the seats are actually smaller than the others.
The price of the one on the right is the same price as the similar version at Target, so it's all a matter of style and comfort.  However, the price of the one on the left is actually $10 more than the one at Home Depot which actually has a larger seat.
Sebastian chose the one from Home Depot based on the pictures.  So, once this project is done, I'll head over and pick up 4-6 of them.  Now I just need to find the right side tables to work.  And citronella options.  I'll probably reuse my old rug if it will fit out there.  I like it too much to not try it out there.  And then when we get Sebastian's grill sold and a new gas one bought, we'll be ready to entertain outside!