We waited for the patio to cure, and now we have to wait on the weather. Off and on rain predictions have put us in a holding pattern until next week. That's actually not terrible news since it gives the patio more time to cure. It still looks good, even the general contractor wasn't expecting it to turn out that nice.
In the meantime, I've looked at more lights and furniture. Since I mentioned that I love brown as a color, I thought I would share some of my favorite brown light finds on my search for perfection – within a budget.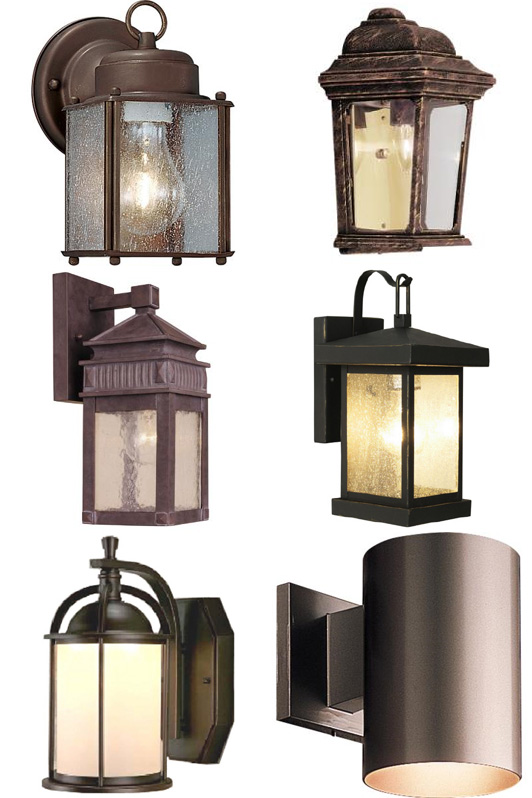 Unfortunately, it doesn't look like we'll be able to use any of these. They don't have versions that would work for the front with the features we'd like.
Top Left & Clockwise:
1.  I like the cracked glass look of this one as opposed to the similar brushed nickel version.  Unfortunately, we'd have to get three identical ones.  While it's budget-friendly, I'm not sold 100% on the brown, and I think the motion detection option in the front is handy.
2. The back plate is brass, otherwise I generally like this.  I get the feeling I wouldn't like it as much in person though.
3. I like this one a lot.  I was looking at a similar piece at a lighting shop yesterday, but again with the daylight sensor and motion detection issues.
4. Nothing about our house is particularly contemporary, but I still think this style would look great.  Unfortunately, it's budget unfriendly to get two small ones and a bigger one for the front.
5. This one hints at that slightly nautical theme, and I like that it's not perfectly clear glass.  But, once again we find that there were no options in brown for motion detection.
6. I like that this one is very different.  There's a bigger version for the front.  It's also less budget-friendly than other options, and I also fear it kind of mixes styles.  Our house is a really odd mix in and of itself.  I'm not sure adding another really works.
That said, I did try going to a lighting specialty store to see more options, and to see if they could beat the box stores on price.  Price is not the final straw here – I would be willing to ask for a slightly larger budget if there was something that just hit the right look.  I suspect that if it really was a better option, he'd be willing to pay the higher price.  But, with higher prices comes the expectation of better service.
In my case, it would have included the expectation of a staff member even talking to me.  But that didn't happen.  I walked in and got stared at, but with no greeting.  I made my way around the store looking for outdoor lighting and passed three people who appeared to be staff and not one said a word.  I was looking at fixtures and price tags in the room I finally found with the outdoor lamps and no one bothered to even stop and talk to me, even though staff members eventually came into the room.  It's too bad since I did find some decent (but not perfect) options in there.  I would have been willing to look at catalogs if they had any or would have given me the time of day.  So, for anyone else in SE PA looking to spruce up their home with some new lights, I would have to recommend against going to Light World in Trevose.  It's too bad since we'll also need new fixtures for the living room, dining room, and den.
I have one more lighting specialty store to hit that's not too far from Sebastian's gun club.  I just want to make sure that we've made the right decision.
Next non-working day installment: Furniture!