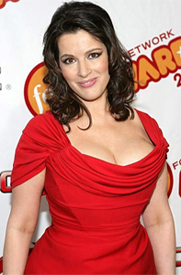 If you have never heard of Nigella Lawson before, you'll start to fall in love with her right now.  If she didn't live in London, some of you might volunteer to go protect her since she recently pissed off ALF and PETA.
When asked on BBC1's The One show if she thought the fashion industry should outlaw fur, Nigella replied that she would wear it if she could kill the animal herself. …

Then she made a stabbing motion and added, "Going into a shop and buying a fur coat would be an act of weakness. But if I could go into the woods and kill a bear myself, I would wear it proudly as a trophy.''
ALF just named her a "legitimate target" according to one outfit.  PETA seems more sane by simply saying her comments make her unattractive.  I'll let you guys decide if they are right.
I knew a woman who trapped the foxes that made up her vest.  I admit, I think it would be pretty cool to have a fur jacket that I caught myself.