Jun 4, 2013
Surfing Etsy for some any interesting antique NRA memorabilia, I came across someone selling old magazine advertisements, including one of an old "I'm the NRA" ad that featured a sitting (at the time) Governor of what is now a deep blue state.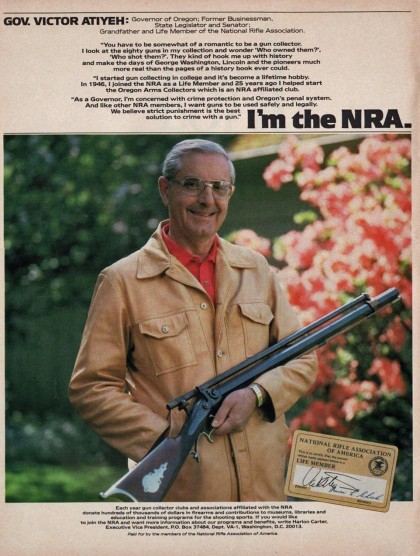 Governor Victor Atiyeh was a Republican governor of Oregon who served out two terms and also, according to Wikipedia, the first elected governor of Arab descent in the US. According to an index of archived materials about Gov. Atiyeh, the ad was apparently created between 1983-1985 during his second term. The index also mentions some interesting collections:
Clippings, correspondence (including copies of outgoing letters from Atiyeh), and a preliminary drawing of a gun case Atiyeh commissioned for one of his guns. Case of medals Atiyeh won during shooting competitions, as well as one Dolores Atiyeh won.
The Dolores mentioned is his wife. That indicates that they both enjoyed competitions. Based on the years mentioned in that index, some may even be from after the years he was first elected to the Oregon legislature.
4 Responses to "Standing with the NRA as a Sitting Governor"