To finish up the AR-15 pistol I milled on my CNC machine, I decided to try Alodine and then Duracoat instead of anodizing. I wanted a process I could do myself, and while I probably could have managed anodizing at home, the process seemed more complicated than I wanted to get into right now, nor do I have a good place to set things up. Buckets of acid wired to a high current power supply aren't a good things to have lying around with small children in the house.
The basic process is to coat the parts with Alumiprep (a phosphoric acid based etcher/cleaner), wait a few minutes, rise with water, coat with Alodine, wait a few more minutes, rinse with water, let dry, and then airbrush on Duracoat.
The first attempt at applying Duracoat didn't go so well. After I was done I noticed a few tiny areas around some bolt holes that I missed. I decided to just mix up a little Duracoat in a cup and do some touch ups with a brush. This turned out to be a bad idea for two reasons. One, Duracoat doesn't look the same when its brushed on. The instructions do say only to airbush it, but I though that for such a small area (1mm so square) it wouldn't matter. But it does. Two, Durocoat dissolves plastic cups. After I was done when I picked up the cup the bottom fell out and I ended up with paint all over my work table. Luckily Duracoat wipes off pretty easily if you get it before it dries.
Then when I went to assemble the gun, even though I waited the recommended 24 hours for the paint to dry, it chipped off in a few places. Argh! So I airbrushed on a few more coats..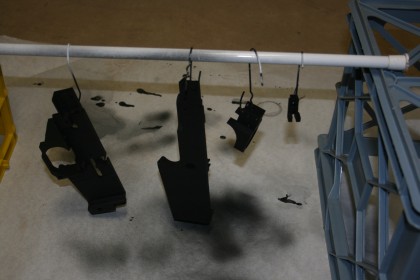 …and then put the parts in the oven at 120 degrees for a hour to speed dry it. This time there was no chipping and no funky spots from the brush touch ups.