The poll that remains up for this week's NRA-ILA poll of activists is a stark reminder that not all of our fellow gun owners have the same priorities: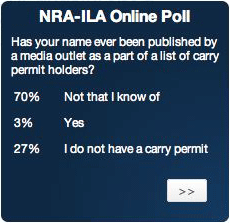 More than a quarter of the respondents don't even have a concealed carry license. And only 3% believe that their names have been published. Considering that most papers who publish those databases do so for the entire state, the number is likely much, much higher than 3%. Even though I never saw it, I know my information was published by the Roanoke paper in Virginia.
Keep in mind, this is a poll not only of people who are members of NRA, but care enough to sign up for the ILA weekly grassroots alerts. And not just that subset, but people who care enough to actually click through and take the poll. So, on one hand, it's not a perfectly representative sample. On the other hand, it does show that even among those who are passionate about the issue, our interests vary – and we shouldn't throw those with other ideas under the bus if we can still bring them along in the broader fight for our rights.