Nov 11, 2015
A happy veterans day to all who have served. I've done quite a bit of research into my Grandfather, John J. Milligan Sr.'s service on the Belgian front in December to January 1944, and at this point understand most of what his unit was doing during the time he got on the front until he was wounded about a month later. My great-grandfather, Samuel F. Milligan, served in the First World War, and I have only begun to research his service.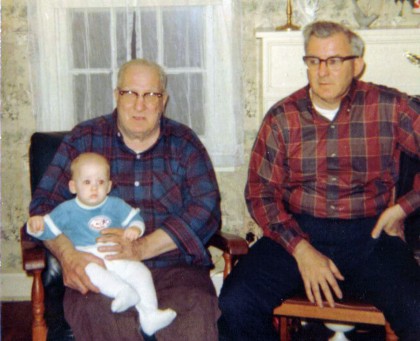 On the left is my great-grandfather and World War I veteran Sam holding my oldest first cousin Billy (who also served in our nation's military). To the right is my grandfather, World War II veteran. The picture was taken about 1966.
I never knew my great-grandfather, since he died a few years before I was born. In piecing together his service, I don't have the advantage of having heard some stories, like I did from my grandfather.
At age 23, my great-grandfather was drafted into the National Army on 26 May 1918. After training at Camp Meade (now Fort Meade), Maryland, he joined the American Expeditionary Force in France. He fought with Company M, 316th Infantry.  I have in his own handwriting:
I arrived in France July 18th, 1918, took part in the Meuse-Argonne Offensive until wounded on Nov 6th, 1918. I was removed to Base 67 on November 11th, 1918. I left Bordeaux on March 12, then arrived in Embarkation Hospital #3, New York City. I was discharged from Camp Dix April 19th, 1919.
Camp Dix is now Fort Dix, in New Jersey. Sam's record says he was severely wounded in the left leg on the 6th of November. Ninety seven years ago to the day, on the 11th hour, he would have heard the guns fall silent, and would be removed from the front to face a long recovery. A generation later, my grandfather's story would sound much the same.
As I mentioned, I never knew my great-grandfather, but I also never even heard of his service until I discovered it, and neither did my father. If there was one thing my grandfather talked about less than the war, it was his family. Sam would later serve the Civilian Conservation Corps, but he had a lot of personal problems later in life, and struggled with alcohol. My grandfather did not get along with him. He died 24 July 1970 and is buried in New Jersey, not far from where I live now.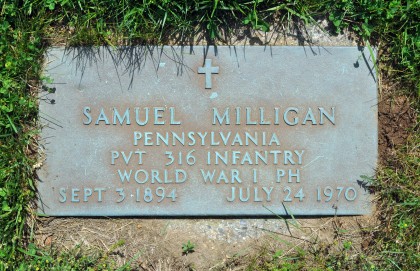 My research is meant to be a tribute to all my ancestors who served. Whatever faults my great-grandfather may have had as a person and as a father, his service deserves to be documented and remembered.
4 Responses to "Happy Veterans Day"