Nov 11, 2013
Sebastian's Story:
Yesterday I traveled to central Pennsylvania to give my dad his DNA test kit so I can use him for our DNA Geneaolgy research. While I was out there, I decided to get a picture of my grandfather's medals, ribbons, and various other items from his service during World War II. My grandfather, John Milligan (1920-1996), was in Europe for about a month before a German sniper punched his ticket home. He was engaged in pushback operations around St. Vith, Belgium. Like many veterans, he rarely and reluctantly spoke about his service. I never saw any of these items until his funeral. As a kid I knew he had been wounded, because I could still see the scars the 8mm bullet made, but I only heard the story once. He was firing at the sniper's position when he was hit, and the bullet entered his support arm, if you can imagine holding an M1.  It traveled down his arm, exited his arm, entered his chest and then finally exited out his back. If the sniper had shot a few inches more true, I wouldn't be writing this. He was expected to be disabled in the use of his left arm, but he mostly recovered. Here are his ribbons, along with a picture of my grandmother and grandfather with me at my high school graduation, a few years before they both died.
Bitter's Story:
Both of my grandfathers served in WWII, but I know relatively little about their service. One was a 1st Lieutenant in the Army and he died before I was ever born. I only know that much because it was carved on his headstone. The other, well, he's alive, but he didn't talk about his service much and he long ago disowned his children and grandchildren. I did write to him several months ago and asked if he would be willing to share a bit of his story since I'm now into family history and genealogy, but he has opted not to respond.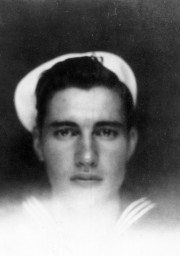 However, despite his grumpy old man ways, Sebastian has been fabulous about digging up what he can given just a few clues that my mother brought for us to scan when she visited. My grandfather served in Carrier Aircraft Service Unit 44 from its inception in Feb 1944. He was sent to Oahu, something he just called "a Pacific island" since, as a minimally educated country boy from Oklahoma, he likely didn't know anything about our little territory of Hawaii. From there, they went to Tinian shortly after we took control.
This is where the documents stop telling the story because he was there for a several months before being shipped to Aiea Naval Hospital back on Oahu, and then to a hospital in New Orleans before being discharged honorably. If he had managed to stay on Tinian just a bit longer, he would have likely watched the Enola Gay take off on it's mission to drop the atomic bomb on Hiroshima.
Much of what I've learned about his service history comes from a website hosted for/by other vets he apparently served with. During her visit, we asked my grandmother to go through the many pictures on their website and see if she recognized my grandfather. Unfortunately, he doesn't look like he was the most social of guys and isn't in any photos they have posted. (This isn't surprising.) It's interesting that in digging up the papers my mom had, my grandmother started talking more about my grandfather's post-war behavior. It's pretty clear he had some significant issues with PTSD. Maybe one day I'll know more about his service. One benefit to his serving in the Navy is that his records are likely still available, unlike those of my grandfather in the Army.
18 Responses to "Thanks to All the Veterans"