Hottie Dave Kopel issues an challenge and I'm all over it…
David Bernstein recently noted Illinois State Senator Barack Obama's 1999 proposal for a federal law against licensed firearms dealers operating within five miles of a school or park. Every town I've ever visisted which has more than a few dozen inhabitants has either a school or a park. Hypothesizing that the ban would apply to city parks (e.g., Central Park in New York City) but not to National Parks, pick a geographical region, and describe where a licensed firearms dealer could operate. Or pick a geographic point (e.g, Houston)and identify how far a peson would have to drive in order to get to the closest point where a gun store could legally be located. Extra credit for illustrative maps.
So I did what any good curious gun owner would do. I pulled up my hometown (the town I know best) and put some circles over it on the schools and parks.  So even though Waurika, Oklahoma doesn't have any gun shops, Obama would ensure that no entrepreneur could address the needs of the area's hunters – a tradition that Obama indicates he doesn't want to interfere with if he's elected.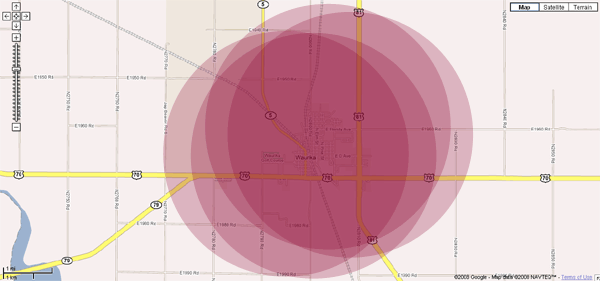 Click to enlarge.

One Comment to